OUR TEAM
THE AGENTS OF APEX SPORTS GROUP
75+ YEARS COMBINED EXPERIENCE
Armed with more than 75+ years combined experience and a shared passion for our clients, our team is supremely positioned to anticipate each individual client need to maximize efficiency while allowing our clients to fully focus on achieving excellence both on, and off the field. Our resources and cohesive client approach enables our client family to aim high with the confidence of knowing that they are in qualified, experienced and eager hands. It is our belief that NFL players are professionals in every sense of the word…Well compensated, well trained and supremely committed to the game of football. Apex Sports Group shares that same commitment with our clients, their family and their future.
BILL JOHNSON
FOUNDER/PRESIDENT
Bill graduated from East Carolina University and entered the sports industry nearly thirty years ago. As a rising NBA executive, Bill and his team negotiated more than $200 million in corporate sponsorship deals for the Orlando Magic.
Bill's close working relationship with players (notably Shaquille O'Neill and Penny Hardaway) exposed him to the representation aspect of professional athletes. He continues to pull from this front office experience as he negotiates on behalf of his football clients.
As an NFL agent, Bill has represented more than 50 top 100 picks, 26 Pro Bowlers, Offensive Player of the Year (DeMarco Murray) Defensive Player of the Year and recent Hall of Fame inductee (Brian Urlacher).
Negotiating more than $3 Billion dollars in NFL contracts, Bill has continually exceeded client expectations and is well respected amongst NFL decision makers. Among his many accomplishments, he was selected by the NFLPA as one of only four agents in the country to assist in rewriting the new agent certification test. Bills energy, experience and effectiveness will help him and Apex Sports Group remain a true powerhouse for many years to come.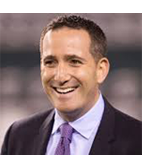 "As a contract negotiator for the Eagles, I work with countless agents. In my experience working with Bill Johnson, he is always professional, well prepared and very effective. He clearly has a passion and conviction about his clients when he's negotiating their contracts, but he's also pleasant to deal with."
Howie Roseman
EVP & General Manager, Philadelphia Eagles
MATTHEW POPE
VICE PRESIDENT
Matthew graduated from the Ohio State University and entered the sports industry nearly 15 years ago. At Ohio State, Matthew worked with a number of players who went on to become top picks and NFL Pro Bowlers. In addition to negotiating nearly a Billion dollars in NFL contracts, Matthew is one of seven agents ever under the age of 30 to sign a top 15 draft selection.
Matthew has been instrumental in organizing clients post career goals; including creating equity based opportunities generating long-term cash flow. He has a proven record of maximizing clients careers – both on and off the field.
Bryce Smith
Client Services
Bryce, a Georgia native, is a decorated Samford University scholar athlete. During his football career at Samford, Smith compiled numerous awards. He was named All Conference Linebacker (3yrs), National Leader in Solo Tackles (2yrs), Team Defensive MVP (2yrs), Conference Leader in Total Tackles, Buck Buchannan Award Finalist, 2nd Team All-American, Charles Memorial Jersey Award Winner, and Team Captain his Junior and Senior seasons.
Upon receiving his Masters Degree from Liberty University, he coached high school football for 7 years and has mentored many athletes that are now in the NFL; including 2016 1st Round Draft Pick, Sheldon Rankins. Over the last 5 years, Smith has been the Director of Player Personnel with U48 Fitness in Atlanta, Ga. While at U48, he oversaw the recruitment and player advising services within the company. His passion is educating the next generation of athletes on how to be productive on and off the field.